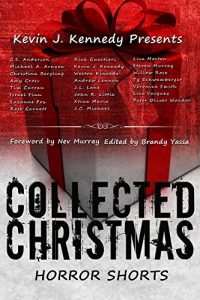 https://www.amazon.co.uk/gp/bestsellers/digital-text/4542716031/ref=pd_zg_hrsr_kinc_1_5_last
Number one in the Amazon UK and US horror anthology best-sellers list, December 2016.
Amazon review:With all these amazing authors there was no doubt in my mind that this was going to be amazing, each story is filled with Christmas joy and holiday sneer, fun little macabre slices to showcase the amazing talent of all the contributing authors.'
Goodreads review: Horror is my favorite genre. Christmas is my favorite holiday. You usually don't put two and two together. But when I heard that Kevin was coming out with a book that would combine the two, I knew right away I wouldn't be disappointed. And I was right!
You want scary? Read this!
You want hide under you covers good? Read this!
You want a book so complex, intriguing, and terrifyingly intense you have to read it twice? READ THIS!
Each story presented something new for me to scream about. If my heart didn't feel like it was going jump out of my chest, I was gripping my covers with anticipation to see what scary and terrifying thing happened next. This book of horror stories was simply amazing and I am beyond thankful I got to read it! Well, twice. I read it twice. Because it's that good!
Robin Lee, Reviewer of the Damned:"The Veil" by author Rose Garnett. This story I found very funny too and just a joy to be in another "Wonderland"